Digital Healthcare Kiosks Canada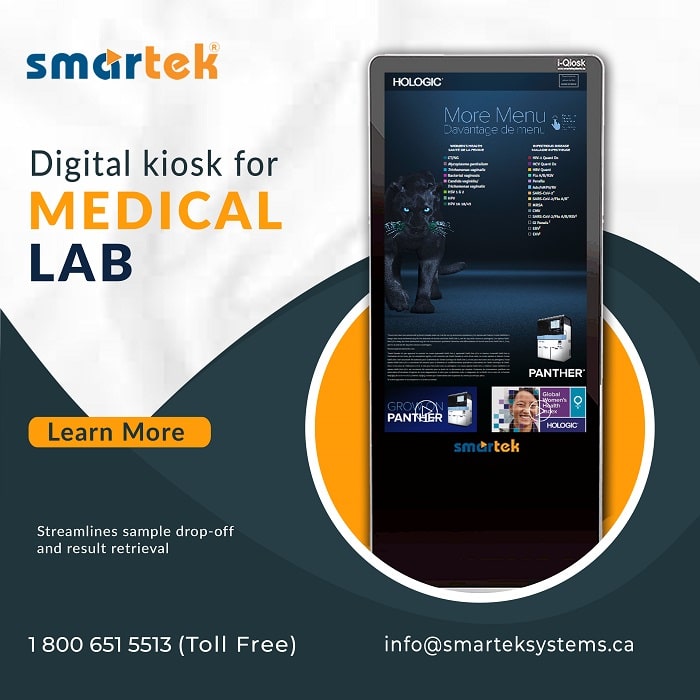 Optimize your information distribution with a digital healthcare kiosk in Canada from Smartek Systems now! Our interactive digital healthcare kiosks can improve the patient experience by providing all the necessary information to your patients and visitors when they enter your building.
This innovative digital signage solution can help you improve communication and transparency, streamline administrative processes and much more. Purchase online today and let digital service kiosks take the hard work out of healthcare.
Benefits Interactive Healthcare Kiosks in Canada Offer Healthcare Facilities
An interactive healthcare kiosk offers healthcare facilities several benefits thanks to its versatile range of incredible features. Whether you invest in a single-sided digital kiosk that offers 1080x1920p HD, or a double-sided kiosk that offers greater flexibility, a digital kiosk can be a valuable addition to your healthcare facility!
Here are some of the benefits that general practice and hospital kiosks can offer your healthcare facility:
Streamlined Patient Check-In Processes
Patient check-in processes can be lengthy and deduct valuable time from front desk reception staff. This reduces the number of employees your facility has to offer essential patient guidance and focuses on other important administrative processes like medical record keeping, updating databases, sending prescriptions, and more.
With a medical kiosk, your patients can take control of their check-in process. Using touch-screen kiosks to input patient information and appointment details, your patients can automatically log their attendance in seconds.
This reduces the backlog of patients in your waiting room and ensures doctors know who's waiting for patient care. With a check-in kiosk, you can achieve a smoother patient logging process, leaving more time for receptionists to conduct their other tasks, like answering phones and interacting with patients.
Shorter Wait Times
Long wait times are a significant issue in healthcare settings, so use kiosk solutions to reduce the time spent in a waiting room. With a kiosk, there's no back-and-forth between reception staff and healthcare professionals, as your kiosk software will immediately log a patient's arrival.
Every second counts in healthcare, so let a medical kiosk shave off the minutes from your facility waiting times.
Employee and Patient Flexibility
A digital kiosk from Smartek Systems is also multi-touch, so users can make contact different parts of the screen, and the kiosk will still register it. This gives your patients and healthcare staff greater flexibility and ensures they can interact with multiple programs.
Medical Kiosk Features
Here's what you can expect when you invest in a medical kiosk from Smartek Solutions:
WiFi Enabled
Our digital medical kiosks are WiFi enabled. This allows you to stream web-based content for your patients.
Floor Standing Foam Wheels
With floor-standing foam wheels, you can quickly move your kiosk around your healthcare facility! We know that flexibility and adaptability are essential in healthcare environments, so each interactive kiosk is easy to move depending on your facility's needs.
Windows and Android Operating Systems
No matter your operating system, our interactive kiosks can support you. Medical kiosks from Smartek Solutions offer Android and Windows operating systems, so you can easily connect PCs to your kiosks and streamline your current processes.
Wide Sizing Range
At Smartek Systems, we believe in giving our customers the best chance at making a good decision for their business, so we offer our interactive hospital kiosks in various sizes that offer patients maximum flexibility. You'll find digital kiosks in sizes including:
For The Best Digitial Healthcare Kiosks in Canada, Trust Smartek Systems
Are you looking for an innovative solution to tackle common healthcare challenges like long-wait times, waiting room backlogs and unclear administrative processes? Order a digital healthcare kiosk from Smartek Systems today.
We have an incredible range of wall-mounted, table-top and double or single-sided kiosks that offer flexible all-in-one solutions perfect for your fast-paced medical facility.
Our interactive kiosks enable real-time tracking of patient attendance, as well as support for other tasks like logging patient information. For more information on how you can streamline your medical processes with interactive kiosks, contact us by phone, email, or book an appointment in Mississauga today to start reaping the benefits of digital healthcare kiosks in Canada.
Contact Us
Call at +1 905 277 4910
Email: info@smarteksystems.ca